Hilton Jr Cadets Football & Cheer 2020
IMPORTANT 2021 INFORMATION
Practice starts August 2

Practice Schedule 

For A, B and C teams - TBD

For Flag teams - TBD

First Game - TBD
---
AGES for players:
Football
Squad A - 11, 12 and 13 year olds (no lightweight); max weight 165
Squad B - 9 and 10  year olds maximum weight 135lbs and 11 year old lightweight at 90 lbs or less.
Squad C - 7 and 8 year olds maximum weight 110llbs  and 9 year old lightweight at 70 lbs or less.
Flag - 5 and 6 year olds  (7 year olds with extenuating circumstances, ie playing football for the first time and very light, must be approved by AYFCL)
Cheer:
Squad A (13u & Under)
Squad B (10u & Under)
Squad C (8u & Under)
Flag (5u & Under)
---
Registration Fee's
$250 registration (Pay by check or online processing fees apply - due upon registration) for A, B, C Football and Cheer.
$175 registration (Pay by check or online processing fees apply - due upon registration for Flag
$50 fundraiser fee (due at uniform sizing)
$50 volunteer check deposit (WILL NOT BE CASHED) due at uniform sizing
Hilton Jr Cadets Cheer Program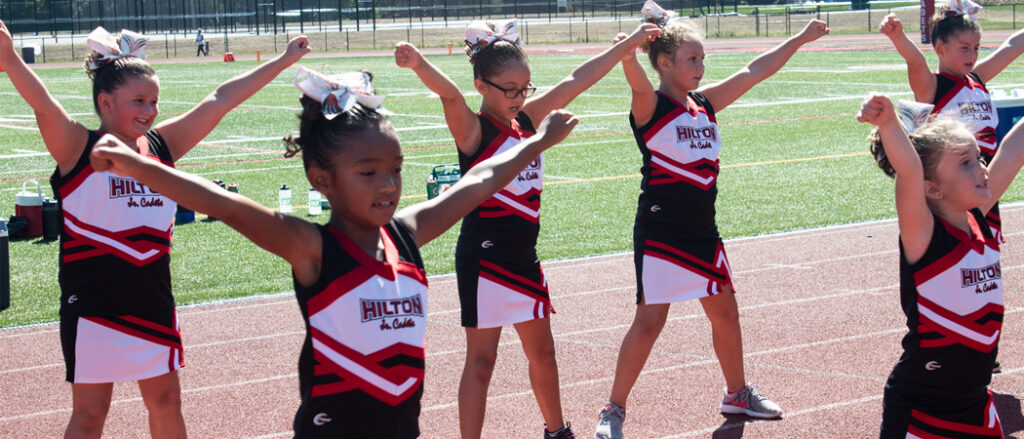 Joining Jr. Cadets cheer provides multiple benefits to your child.  Your child will grow and develop physically, socially, and emotionally.  Beginning from the Flag level, your child will learn the fundamentals of cheer, and continue to build upon those skills in a safe and controlled environment as they progress to A Team.  The skills and character traits taught at the Jr. Cadets level are all in preparation for our athletes to have a seamless transition into our Hilton modified level and above.

Jr. Cadets Cheer builds inner confidence within your daughter.  Your daughter is given an opportunity to take risks both physically and mentally when performing during competitions. They learn the importance of building team work and that a dedicated "hard work" mindset is essential to a successful squad!
As our cheerleaders work together, they learn to empower their team mates so that we can achieve our goals. Sportsmanship, accountability, perseverance, and grit are all created with Jr. Cadet Cheerleading!